Available now! Our latest creation to complete your LED build! Made in the USA, this is an all-in-one LED driver similar in function to the Meanwell LDD drivers, in a much more compact size and not requiring expensive carrier boards or plug in modules - its complete out of the box!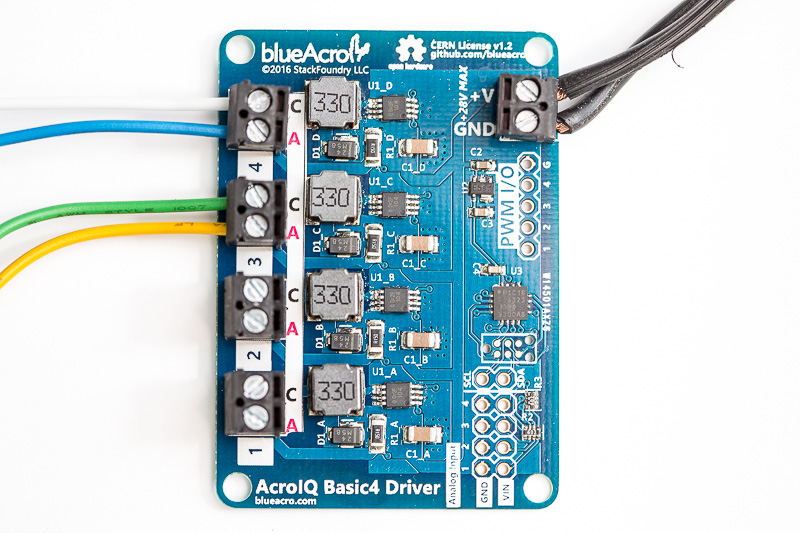 The AcroIQ Basic4 (PWM Only) driver is a mere 1.6 x 2.2 inches and can mount right next to your LEDs on T-slot or other heatsinks (due to its small size, mounting in moving air or to a heatsink via the provided thermal pad is required). Capable of 36V supply voltages, the driver is fully compatible with any 3.3V or 5V PWM dimming signal from off-the-shelf controllers from blueAcro or others (analog dimming is not available on the PWM only model).
Order for the maximum current you expect for each channel, either 700mA or 1000mA (1 amp).
This driver can drive up to 4 AcroStar 24W and up to 2 AcroStar 48W LEDs when powered by a 36V adapter. It can run up to two 24W or a single 48W when powered by an 18-24V power supply.
Specifications:
Made in the USA
12-36V supply voltage
VIn - 3V maximum output voltage (12V in, 9V out) over the full input range
Order in 700mA or 1000mA maximum output currents
PWM dimmable over the entire range, including off, by a 120Hz-30kHz 3.3V-5V PWM signal. Four easy to solder (+ GND) are provided.
Screw terminals accepting 20-26 gauge wire are provided for input power and LED connections.
1.6 x 2.2 inches
Four #4 mounting screw posts
Provided self-adhesive thermal pad - mounts to the bottom of the PCB. Must make contact with a heatsink or other metal surface (such as a metal case).
Up to 94% efficient at closely matched Input-Output voltages
Open source hardware design! See github.com/blueacro